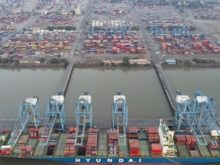 All the major port trusts with the exception of New Mangalore Port Trust handled much higher volumes during the first two months of the fiscal year that began in April from a year earlier.
Deendayal Port Trust, India's top State-owned port by cargo volumes, handled 22.799 mt during April-May from 17.189 mt a year ago, posting a growth of 32.64%, according to the ministry of ports, shipping and waterways.
Paradip Port Trust handled 20.507 mt of cargo from 16.097 mt, an increase of 27.4%
Jawaharlal Nehru Port Trust handled 12.513 mt of cargo from 8.026 mt, registering a growth of 55.91%.
Visakhapatnam Port Trust handled 11.832 mt of cargo, 18.95% more than the 9.947 mt handled during the same period last year.
Mumbai Port Trust handled 9.210 mt from 7.541 mt a year ago, posting a growth of 22.13%.
Kolkata Port Trust handled 9.090 mt from 7.438 mt with a growth of 22.21%.