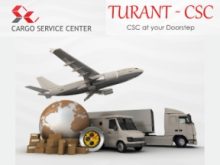 Cargo Service Center (CSC) Group has launched the industry's first real-time temperature monitoring and cargo tracking app, named Turant, which provides real-time temperature tracking of pharmaceutical shipments inside the terminal that departs from Mumbai International Airport (MIAL) offering end-to-end visibility. End-to-end supply chain visibility has always been a concern for pharma shippers and the COVID-19 crisis magnified this need. Addressing this key concern, the TURANT app will provide customers all critical real-time information including temperature of the shipment during transit, all accessible on a mobile phone screen.
"This is the first time in history that a cargo terminal is providing its customers with real time temperature tracking and status of shipments. CSC is the first in the world to provide you with this level of transparency. And this is just the beginning; going forward, you can expect a lot more innovation from our team," said, Tushar Jani, Chairman, CSC.
The Pharma Excellence Centre in Mumbai has been temperature-mapped and the temperature of the terminal is being monitored electronically. The TURANT app provides this information right into the palm of your hands. All you need to do is to download the app. Once installed on your phone, you need to select the airport, enter the Air-Way-bill number and the shipment becomes visible through the app.
"At CSC, we have used the latest technology and innovation to bring transparency of our operations to our customers. Therefore, we have launched TURANT, which is CSC's real-time temperature mapping and tracking app. This app will be an absolute blessing for all the quality heads in the various pharma industries," said Pramod Pereira, AGM-Quality, Training & Procedures, CSC.
Applauding CSC for its pathbreaking initiative, Manoj Singh, senior vice president and head – cargo, MIAL said, "Pharma contributes 37 percent to MIAL's cargo business and CSC has played a key role in the cargo handling. We are going to bring many more innovations in the times ahead."
MIAL, which handles the largest portion of EXIM pharmaceutical air cargo movements in the country, has been handling 40 to 50 tonnes of vaccines per day. It has witnessed 22 percent growth in pharma imports, and till date, 32 million doses of Covid-19 vaccines have been transported to across 20 countries worldwide and to 30 destinations within India.
The Turant app is available for download through the Google Play and Apple app stores.