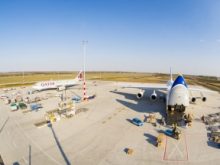 Registering a record quarter at the end of 2020, Budapest Airport has handled a total of 134,459 tonnes of air cargo in 2020 and dealt with 38,868 tonnes of air cargo in Q4. Ferenc Liszt International Airport handled 6,118 air cargo flights last year, 17.6 per cent more than in 2019. Cargo volume fell only a 0.8 per cent decrease from last year. Cargo charter flights transporting medical equipment and other healthcare supplies accounted for approximately 6 per cent of last year's cargo traffic, which meant handling around 350 dedicated flights in 2020. "The fact that cargo traffic at Budapest Airport remained stable during this extraordinary year is attributable to the exemplary perseverance of the cargo community. It is our strong intention to maintain the organizing and supporting role of the airport in this work," said Rolf Schnitzler, CEO, Budapest Airport, in addinh, "It takes numerous players, precise coordination and a strong base like the BUD Cargo City to handle the cargo traffic of the airport. We remain committed to continuously developing air cargo and the BUD Cargo City; in 2021, we will commence preparations for the second phase, the design and construction of more cargo handling facilities, warehouses, and offices."
József Kossuth, Cargo Manager, Budapest Airport noted, "We have numerous other development projects underway, including, for example, supporting digitization needs required for the work of the cargo community, or the introduction in Hungary of the IATA (International Air Transport Association) CEIV Pharma certification system for the aerial transportation of pharmaceutical products, which is in the implementation phase. We believe that the airport and the BUD Cargo City will serve as a world-class, efficient, and sustainable cargo gateway to Central and Eastern Europe, and will continue to support the national economy."
Due to the coronavirus and its economic impacts, the proportion of exports and imports shifted from the previous 50-50% to 40-60% in the first half of 2020, and then normalized at 45-55% by the end of the year, the airport notes.
The airport says that cargo traffic has also been transformed over the course of 2020, with the sudden loss of long haul, wide-body airliners bringing about the disappearance of their lower-deck cargo capacity as well.
Market demand was therefore primarily satisfied by dedicated cargo flights. In this respect, LOT's weekly passenger flight to Seoul and the two Emirates flights per week to Dubai brought significant cargo capacities back during the second half of the year. The traffic of the integrator companies (DHL Express, FedEx (TNT Express), UPS) grew further at the airport in 2020.