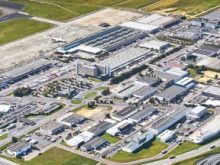 While noting airport's significant role in shipping COVID-19 vaccine around the globe, Brussels Airport has highlighted continued growth in its airfreight volumes since last summer. The air cargo volumes have again recorded significant growth, up 21% on January 2020. Brussels Airport continues to do better than the average growth seen in Europa and worldwide which is negatively impacted by the strong decrease in the number of passenger flights operated by wide bodies. In January, air cargo volumes in the full-freighter segment grew sharply by 73% compared to the same month in 2020. Integrator services too recorded strong growth compared to last year (+37%). These strong growth figures largely compensate for the limited volumes of belly cargo carried on passenger flights. And for once, trucked air cargo also records an increase (+10%), after several months of negative growth.
The total volume of goods handled by the logistics platform at Brussels Airport grew significantly (+ 18%) in January, totalling to 58,311 tonnes. The transport of COVID vaccines, which is sure to continue all through the year, has found in Brussels Airport a top-notch logistics hub, specialised in temperature-sensitive goods, particularly pharmaceuticals.
Imports from Asia and North America are recording strong growth compared to the same month last year. On the exports side, we find that the volumes towards Asia in particular are doing well. We also note a positive impact on air cargo volumes related to Brexit.