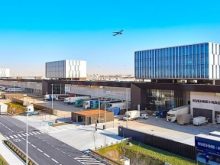 A new 50,000 square metres logistics building for the handling of goods was officially opened, after two years of constructions work, at the west side of Brucargo. The building provides large refrigerated storage areas and offers direct airside access, with three logistics companies operating out of the facility including Kuehne+Nagel, Worldwide Flight Services and Expeditors. "Brucargo West not only provides additional first-line facilities for handling activities (WFS), increasing maximum capacity but also anchors the airfreight activities of two global logistics service providers (Expeditors and Kuehne+Nagel)," the airport says.
Brussels Airport boasts over 100 logistics companies making it the second most important logistics hub in Belgium, after the Port of Antwerp, for international trade, according to Brussels Airport. Centrally located amongst major industrial centres in Belgium, the logistics area of Brussels Airport is a crucial driver of economic growth in the country and its regions. The airport saw nearly 650,000 tonnes of cargo transported in 2020.
Brussels Airport has invested a total of EUR 100 million in the construction of ultra-modern logistics buildings including the Brinks building for the storage of valuable goods.
With the new facility, Kuehne+Nagel (K+N) is expanding its activities at BRU for the handling of perishables including temperature-controlled storage and transportation of flowers, vegetables and fruit. The new infrastructure is particularly suited for the handling of pharmaceuticals, such as vaccines, which is one of the niche markets Brussels Airport has specialised in. The airport has over 30,000 sqm of refrigerated storage space. Brussels Airport says K+N's hub in Brucargo complements the company's global network of 90+ KN PharmaChain GxP certified air logistics stations.
Also tapping the new facility, Expeditors is significantly expanding its healthcare logistics in Europe and has chosen Brussels Airport to become its pharmaceutical gateway to connect its European network with the rest of the world. The new Expeditors healthcare facility in combination with fully monitored end-to-end temperature-controlled logistics is a key differentiator in the market, the airport says. The new Expeditors facility is already playing a key role in the shipment of COVID-19 vaccines and related medical supplies.
"Thanks to Brucargo West, we now have additional logistics facilities for the transport, in optimal conditions, of pharmaceuticals in general and COVID-19 vaccines in particular", explains Arnaud Feist, CEO of Brussels Airport, in adding, "We are thus expanding our first-line logistics infrastructure and temperature-controlled storage facilities, now having the largest refrigerated storage capacity of any airport in Europe. Brussels Airport is a proactive investor who aims to make the logistics chain even more efficient and get it ready to accommodate future growth, making the airport an essential economic hub in Belgium, in terms of employment and added value for our country's economy."