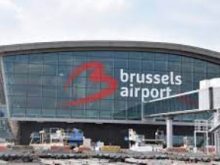 Brussels Airport Company and skeyes signed an agreement where Brussels Airport will become a 50 percent shareholder in SkeyDrone, a subsidiary of skeyes. SkeyDrone offers a range of services that enable safe and efficient drone operations. With this acquisition, Brussels Airport intends to play an active role in the drone technology developments and in the provision of drone services to various industries in Belgium and abroad.
Over the past year, Brussels Airport has worked closely with skeyes and SkeyDrone on various drone projects in fields such as intrusion detection, aerodrome safety, operational efficiency, etc.
"Brussels Airport's investment in SkeyDrone is strategic and goes beyond investing in drone know-how and technology. It is an investment in co-creating the future of unmanned air traffic together with 2 key players in this field, skeyes and SkeyDrone. With SkeyDrone, we can fully explore, develop and commercialise drone management systems and drone services that can be used on a daily basis by clients in various industries," says Arnaud Feist, CEO of Brussels Airport Company.