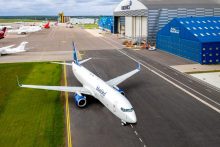 Icelandic cargo airline Bluebird Nordic has taken delivery of its fifth B737-800 converted freighter as it continues to expand its fleet. The carrier said that the addition of the new converted aircraft would help strengthen its position in the cargo market. "We are thrilled to further strengthen our fleet with the addition of converted B737-800s," said Audrone Keinyte, chief executive of Bluebird Nordic. "These new aircraft have already proven to be excellent assets, providing reliable and efficient operations with impressive range and payload capabilities for an aircraft of this size. "We trust that by extending the fleet we will be able to further strengthen our position in the cargo market, especially in Next Generation (NG) segment." Bluebird Nordic now operates a fleet of one B737-300, six B737-400 and five B737-800 full freighter aircraft. The airline plans to continue growing its fleet in the next couple of years.
Only last week, the company announced plans to add an Air Operator Certificate (AOC) in Slovakia as it looks to expand operations in Europe. The Icelandic ACMI leasing and cargo airline said that the additional AOC was a "strategic move" that would allow it to enter "new and prominent markets".
The carrier, which is a member of the Avia Solutions Group, has plans to grow the fleet to 25 aircraft in the next couple of years with a focus on the Boeing Next Generation (NG) segment.