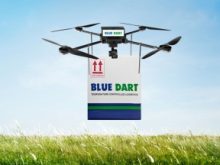 Blue Dart, has successfully commenced Visual Line of Sight (VLOS) drone delivery trials under the Blue Dart Med-Express Consortium in Vikarabad, Hyderabad on September 9th, 2021. Blue Dart is proud to be given the first opportunity amongst various consortiums to initiate the Drone trials. Balfour Manuel, Managing Director, Blue Dart attended the launch as the organization furthered its technological prowess. Launched under Telangana Government's 'Medicine from the Sky' project, these trials have delivered promising results, bringing the country one step closer in ensuring the last-mile delivery of vaccines. Beyond Visual Line of Sight (BVLOS) trials were initiated on September 11th, 2021 and will continue on till the end of the week.
This event was graced by Jyotiraditya M. Scindia, Minister of Civil Aviation, KT Rama Rao, Minister for ITE&C, I&C and MAUD, Pradeep Singh Kharola, Secretary, Ministry of Civil Aviation, Rama Devi Lanka, Director of Emerging Technologies, and Nikhila, Collector & District Magistrate, Vikarabad District.
The Blue Dart Med-Express Consortium was formed earlier this year with the mission of revolutionizing the delivery of vaccines and emergency medical supplies to the remotest parts of India with Drones. Blue Dart Med-Express Consortium is a part of the 'Medicine from the Sky' project in collaboration with the Government of Telangana, World Economic Forum, Niti Aayog and Healthnet Global.