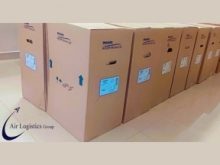 India had been adversely hit by the second wave of the covid pandemic and there has been severe shortage of equipment, beds, healthcare workers, vaccines, oxygen and drugs.
Air Logistics Group has contributed to international efforts towards Covid relief by donating medical grade 5 litre Oxygen concentrators to help the Covid patients in India. These concentrators were imported by Air Logistics Group (India) from the UK through its East Midlands office during the height of the second wave in New Delhi to support the needy during these crisis. This is not the first time Air Logistics Group (India) has donated medical equipment. Last year prior to the pandemic they also donated Dialysis machines to serve society .
"Every drop – small or big counts in such crucial times when people are struggling for survival", remarked Vikramjit Singh Ahluwalia, MD in India, following the donation.