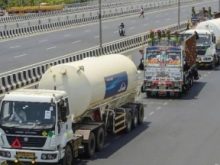 Adani Group has secured medical oxygen and transportable cryogenic containers as well as augment health infrastructure. The Adani Group has already procured 48 cryogenic tanks capable of carrying 780 tonnes of liquid oxygen across the nation, a group spokesperson said. The Adani Group is ramping up its efforts in India's battle against the pandemic. "As soon as the second COVID wave hit India, the Adani Group began leveraging its overseas connections to procure hard-to-find supplies of critical essentials like medical oxygen and transportable cryogenic containers," the spokesperson said.
It procured 48 cryogenic tanks from leading manufacturers in countries like Saudi Arabia, Thailand, Singapore, Taiwan and UAE.
While some of these large cryogenic tanks were shipped in through the group's Mundra Port in Gujarat, others were airlifted into the country with the help of the Indian Air Force, which deployed its biggest transport aircraft for these time-critical operations.
These cryogenic tanks are a vital addition to the hardware India sorely needed to manage the medical oxygen requirements of patients across the country.