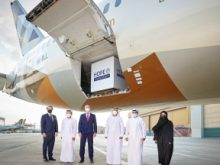 Abu Dhabi has launched an initiative called the Hope Consortium which aims to serve as a logistics platform to coordinate and facilitate the distribution of the Covid-19 vaccine around the world. The Hope Consortium represents a complete supply chain solution to address vaccine transport, demand planning, sourcing, training, and digital technology infrastructure, and facilitate vaccine availability across the world.
Hope Consortium member Etihad Cargo will transport five million vaccines in November on behalf of the Department of Health – Abu Dhabi, which is spearheading the consortium and will oversee regulatory compliance, full chain expertise and scientific insight. The Hope Consortium has pooled its collective expertise to garner a multi-faceted capability to provide logistics services to handle over six billion doses from the vaccines being developed and manufactured around the world – whether in single or multi doses – in cold and ultra-cold conditions in 2021, rising to over three times more doses by the end of next year – the largest capacity and logistics capability regionally and one of the largest globally.
"The Hope Consortium is a prime example of how Abu Dhabi is leading in providing solutions, capabilities and capacities to help the world get through this global pandemic. It is a continuation of all players' collaboration of a UAE-based public-private partnership that spans the globe. While assuring vaccine supply to the domestic market, the Hope Consortium will offer international governments, non-governmental organisations, and vaccine suppliers a cohesive solution across every supply chain step – from air freight, regional storage and temperature monitoring, to inventory management, cold and ultra-cold container solution, regulatory clearance, and healthcare and pharma quality assurance," explained HE Sheikh Abdullah bin Mohammed Al Hamed, Chairman of the Department of Health – Abu Dhabi.
The consortium also includes Abu Dhabi Ports Group, Rafed, the healthcare purchasing arm of Abu Dhabi-based ADQ, and Switzerland's award-winning SkyCell, which develops next-generation, temperature-controlled logistics containers for the pharmaceutical industry. As part of the Hope Consortium, SkyCell will establish a regional service and manufacturing centre in Abu Dhabi.