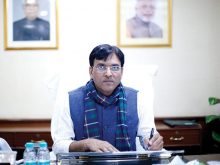 According to Mansukh Lal Mandaviya, Union Minister of State for Shipping, "By developing strategic Chabahar Port in Iran, India will reduce logistics cost by 20 per cent in container transport to CIS countries, bypassing China or Europe." He explains, "So far, CIS (Commonwealth of Independent States) countries could be reached only via China or Europe. There was no other connectivity with CIS countries. Chabahar port, located in the Sistan-Balochistan province at energy-rich Iran's southern coast, lies outside the Persian Gulf and is easily accessed from India's western coast, bypassing Pakistan."
"In a strategic development, loading and unloading of cargo has started at Chabahar Port. CIS countries include Armenia, Azerbaijan, Belarus, Kazakhstan, Kyrgyzstan, Russia, and Uzbekistan. Now, we have developed Chabahar port and there is direct connectivity to these countries via Afghanistan," the minister said.
"Transshipment of cargo started last week at Chabahar Port," he adds.
"Chabahar Port is scaling up its operations drastically. India Ports Global terminal loaded 76 TEUs (twenty foot equivalent unit) all refrigerated for India. This is record single loading and is a milestone in growth path of Chabahar Port," he said.