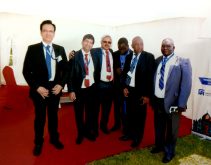 As part of its international campaign for the FIATA World Congress 2018 (FWC-2018), Federation of Freight Forwarders Associations in India (FFFAI) participated in RAME (Region Africa & Middle East) 2018 Conference, held recently at Douala in Cameroon. This conference was the part of FIATA's annual regional conference, where more than 700 delegates of Customs Brokers, Freight Forwarders and Logistics Companies mainly from African countries, gathered to exchange views on market trends, trade opportunities and skill development.
At the conference, FFFAI leaders, S Ramakrishna, Vice Chairman, FFFAI, Sudip Dey, Vice Chairman, FFFAI and Vinod Sharma, Honorary Treasurer, FFFAI, interacted with the conference delegates about FWC 2018 and business opportunities in India.
According to Ramakrishna, "There were significant footfalls. Our visit to RAME 2018 was very fruitful and we are expecting about 200 delegates from African countries alone."
To be hosted by FFFAI, which is a member association of FIATA, the FWC 2018 will be held from September 26-29 at Aerocity in New Delhi. The event expects more than 1500 delegates from overseas countries as well as India. Themed as 'The Future Starts Here', FWC 2018 aims to showcase brand India as a lucrative hub for manufacturing and logistics industry.