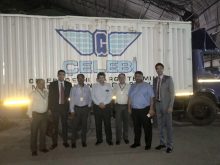 Celebi Delhi Cargo Terminal Management India, in collaboration with OM Logistics and GSEC, Ahmedabad Airport, have commenced a dedicated bonded trucking from Ahmedabad to Celebi Terminal Delhi IGI Airport, after the successful launch at Kanpur, Ludhiana, Noida SEZ and Pithampur SEZ1 & SEZ2. The objective is to provide their customers a possibility to move air cargo in an efficient, safe, process driven and cost effective manner.
Bonded trucking is relatively a new concept in India and Celebi Delhi Cargo Terminal has taken a step forward to start a hub & spoke project. This bonded trucking service will open tremendous opportunities to airlines to solicit business from stations that are offline.
Ramesh Mamidala, CEO, Celebi Delhi Cargo Terminal Management India, stated, "Now cargo from Gandhinagar, Bhavnagar, Surat, Vadodra and even Indore can be custom cleared at GSEC facility at Ahmedabad Airport and sent to Delhi Airport daily. We hand pick our logistics partners and manage every aspect of the service for commitment, on time performance and transparency to guarantee quality of service to our customers."
"After Ahmedabad, we plan to start bonded trucking from Indore, Jaipur, Durgapur, Pune, Agra, Moradabad and Rishikesh – Roorky belt in 2018. Besides starting temperature-controlled road transport to Delhi from Indore and Ahmedabad, speed, safety and security are the key words that identify our air cargo road bonded service," added Mamidala.